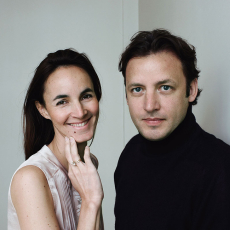 Gilles & Boissier
Patrick Gilles and Dorothée Boissier are opposites that attract. Joyfully engaged in constant, creative disagreement, they find inspiration: more, it's precisely this ceaseless game of verbal and mental ping-pong that gives form to their ideas. Partners in life and in design, each one has a specific role and style, but together they form a unified whole. If strict lines and a distinctive taste for fine woods can be attributed to Patrick Gilles, Dorothée, on her end, has a way with spatial fluidity, colours and intuitive elegance. It is this distinctive approach that has paved their road to success, with commissions all over the world.
> Visit website
A unique association reunited French designers Gilles & Boissier and the ateliers Jouffre on the prestigious first Baccarat Hotel in New York. Patrick Gilles & Dorothée Boissier are two French interior designers whose style and elegance have seduced worldwide. They started in 2004 and have designed interiors in luxury hotels, residences as well as boutiques in all continents. The couple is now working on the amazing first Hotel Baccarat in New York for which they decided to collaborate with the ateliers Jouffre to achieve the wall upholstery in the lobby lounge of the hotel.
Everything started with an original idea: creating the effect of hundreds of pleats unveiling one after another all around the four walls of the lobby lounge of the brand new Baccarat Hotel in Manhattan, due to open soon right in front of the MoMA. The ateliers Jouffre took up the challenge offered by the designers Gilles & Boissier and went beyond the traditional techniques of wall covering. For months, from Lyon to New York, our design office developed, improved and perfected a new approach of wall upholstery. As to contribute to the Christmas magic, the ateliers stapled the last pleats right before the holidays, offering New Yorkers an outstanding present!
© Eric Laignel