For our third episode of "Parole de Designer", we are proud to introduce you to Marc-Antoine Biehler and Amaury Graveleine, founders of the Biehler-Graveleine studio.
Awarded the "Prix Visual Merchandising" and the "Prix du Public" at the 2021 Toulon Design Parade, the two young interior designers work on residential projects, restaurants, hotels, art galleries and luxury brands. For Paris Design Week 2023, the duo teamed up with Maison Lesage Intérieurs, represented by 19M, as well as The Invisible Collection, and our upholstery workrooms to unveil their first furniture collection at Féau Boiseries.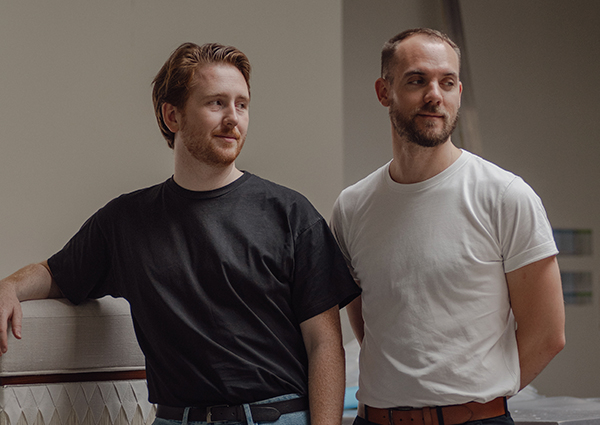 Marc-Antoine, Amaury, thank you for interviewing us for our "Designer's Voice" series. How are you doing today?
Marc-Antoine : "Hello to both of you, we're doing very well and we're very happy to have done this project together. We're still in the thick of things (see Paris Design Week 2023), but we've had a lot of very good feedback, and that's very rewarding. We're doing very well!"
May we begin this interview with a brief retrospective of your career paths?
Marc-Antoine : "I'm an interior architect and designer. I graduated from École Camondo in 2018. Throughout my studies I completed various internships with several companies. My first internship at Lalique, then at Tristan Auer where I met Amaury, and lastly my graduate internship at Bureau Betak in New York. I then returned to France and worked at Luis Laplace for 3 years as an interior designer, mainly for very fine private projects for art collectors. It was an opportunity to work on highly creative projects where I was able to learn about the general culture of the profession, and the history of design and architecture. It was an enriching experience. We still draw on these experiences today in our work.
Amaury : " I graduated from the École Boulle and completed all my studies there, from the second year of applied arts to the interior design diploma. I then went on to study at the Paris-Malaquais School of Architecture, part of the Beaux-Arts de Paris. I then worked for Tristan Auer in interior architecture, where I was lucky enough to discover the profession of interior architect and designer, where all the different skills are brought together. This can be anything from a ceramist working in raku to the skill of lacquering a precious wood, allowing me to discover all these materials of which I wasn't necessarily aware, and which allow a diversity of renderings and atmospheres. I then worked for Fabrizio Casiraghi and Christophe Delcourt, and returned to Tristan Auer as Project Manager. All these experiences were mainly for residential and hotel projects."
What motivated you to take on the role of designers and launch your first furniture collection?
Marc Antoine : "It came quite naturally. We follow in the footsteps of the "ensembliers" who worked on architecture and space down to the smallest detail, such as the design of door handles. This vision is very important to us in our work: from the envelope to the details, to offer a project in its entirety, a complete work of art.
For this collaboration with Lesage Intérieurs, the opportunity to present embroidery staged and contextualized on furniture seemed the most obvious. It's a way of inviting visitors to project themselves by adding embroidery to their interiors."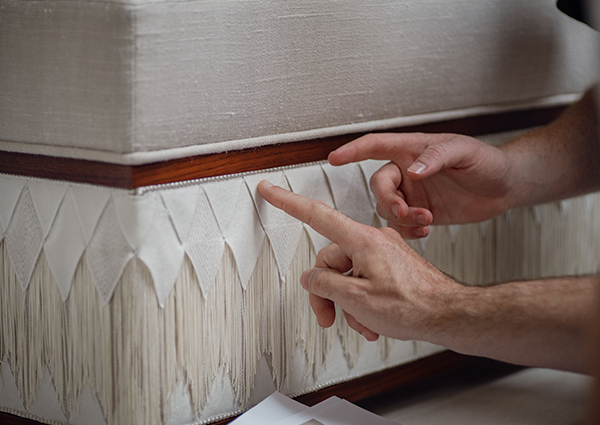 What is your relationship with ateliers and craftsmen?
Amaury : "Architects often tend to be perceived as conductors, synthesizing ideas and savoir-faire to create a global project, a living space. We believe it's important to reverse this principle, and to integrate different craftsmanship skills right from the start of the design process. In this way, we try to establish an ongoing dialogue and exchange with each artist and craftsman, in order to understand their creative possibilities. We try to push their limits, and in so doing, offer furniture pieces and living spaces that are pleasant and human. All our projects are geared in this direction. And that's exactly what we did with your workrooms for the armchair and ottoman. A constant dialogue, in which each of your suggestions and technical proposals has improved the comfort and quality of the pieces."
How did the idea of collaborating with artisanal houses like Maison Lesage Intérieurs and our workrooms come about, as well as with the renowned gallery The Invisible Collection?
Marc-Antoine : " Going back to the origins of the project, we took part in the Design Parade Toulon en 2021 competition, held by the Villa Noailles, where we won two prizes: the Prix du Public and the Prix Visual Merchandising Chanel. The latter offered us the opportunity to come back the following year to carry out a new project in the former bishopric of Toulon, along with one of Chanel's Maisons d'Art. We worked with Lesage Intérieurs on a project entitled "Madame Cristal", based on the theme of the Tarot de Marseille. A gigantic embroidery affixed to a blue folding screen and fainting couch. Following this project, we struck up a friendship with Maison Lesage Intérieurs. They invited us to collaborate on an embroidery collection on the theme of Folklore. We were given access to their archives and the chance to talk about their heritage and embroidery techniques. We then met Isabelle Dubern, co-founder of The Invisible Collection, who had previously worked with Maison Lesage Intérieurs. During this meeting, we discussed the idea of staging one of the types of embroidery we were designing on two pieces of furniture. Isabelle immediately followed our lead and offered us the opportunity to collaborate on this project, to be presented at Paris Design Week. Then Ateliers Jouffre came on board, as we were familiar with the reputation of your workrooms and knew that Maison Lesage Intérieurs had already collaborated with you. We were also aware of your expertise and your high standards, both in terms of comfort and in your approach to creating your pieces. We wanted to turn to the best. We met Romain Jouffre and then Gabrielle, accompanied by your teams, with whom we immediately felt a shared passion. Everyone was excited about the project and wanted to join us in the adventure that is Paris Design Week."
What were your wishes and expectations for this first collection?
Amaury : " Choosing Ateliers Jouffre is an opportunity to work with one of the finest upholstery houses in France.
You collaborate with Pierre Yovanovitch, Raphaël Navot and other designers, who are for us references in innovation and creation. It's a demonstration of your high standards and excellent savoir-faire.
For this first collaboration, we had several expectations: Firstly, a very human relationship. Your workrooms are located in Lyon, France. They're accessible and the dialogue with all the members of the ateliers is so easy and pleasant. Secondly, it's your ability to rise to the challenges, creating creations with complex, even unheard-of shapes. Your technical skills and rigor enable you to pay constant attention to gestures and every detail.
And last but not least, as we mentioned earlier, you're also keen to suggest improvements in design, in finitions, in comfort, so that the pieces you create are fully satisfying and successful, in every aspect. You deliver beyond our expectations, and for that we thank you."
Now that the ottoman and armchair are finished, could you present them to us and give us your first impressions?
Marc-Antoine : "The "Collins" armchair and ottoman are part of a collection we'd like to continue by developing a sofa, poufs and coffee tables to complete the set. The armchair has a straight, modernist look inspired by the early 20th century. Its shapes are rather "classic", enveloping the body and offering exceptional seating comfort. The armchair is conceived as three successive layers, with a fully embroidered shell, an upholstered armrest covered in fabric and then a final layer of cushions hugging the body. There's also the woodwork that encircles the embroidery and develops around the edge of the armchair to become the base, distinguished by a play of hollow joints. The Ottoman is based on the same approach, wrapped around the embroidered border and encircled by wood, as is the work on the base with the hollow joint. The name "Collins" refers to smoking rooms, bookcases where we imagine ourselves with a glass in hand in a hushed atmosphere. The name is reminiscent of whisky glasses and a nod to private clubs."
Amaury : "The armchair presents itself as a contrast. A highly decorated exterior and, conversely, a minimalist, uncluttered interior. The idea is to feel fully protected in this armchair, an intimate, appropriable space. What was important to us was that this armchair should be an incipient base, with the potential to be varied in fabrics, wood stains and embroidery, according to the desires and uses of each individual."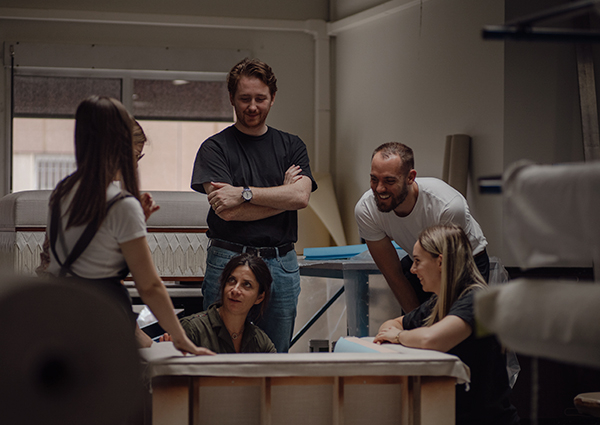 We'd like to express our sincere gratitude to Amaury and Marc-Antoine for the precious time they gave us for this interview. Their kindness, combined with a great humility, made this exchange particularly enriching and pleasant.