Jouffre partnered with Villa Albertine and Par Excellence to host an immersive and expansive event as part of the Oui Design! festival - an event that proved to be an unforgettable fusion of design, music, and good times. Close to a thousand industry professionals gathered in a space where creativity is spun into reality. The purpose of this unique gathering? To engage in an evening of discovery and exchange, showcasing the remarkable talents of both emerging and established creators.
.
Ateliers Jouffre, a member of the Par Excellence collective, collaborated directly with Par Excellence, renowned for enabling international designers and architects to realize their most ambitious visions through unique spaces and bespoke furniture. Par Excellence represents the pinnacle of French craftsmen in the realm of interior design. Complementing this, Villa Albertine, a significant force in French arts and ideas within the United States, lent its innovative spirit to the event. Building upon over a century's worth of bold, innovative programs that form the hallmark of French cultural exchange abroad, Villa Albertine's partnership truly enriched the evening's festivities. The collaboration of these three entities created an atmosphere where tradition met innovation, craftsmanship met design, and local met global.
Throughout the night, artisans such as François-Xavier Richard, Manuela Paul-Cavallier, Steven Leprizé, Nicolas Souchet, Combray Design, and Studio Anthost shared their craft, demonstrating the breadth of their abilities across disciplines. In addition, the talented Jouffre teams showed off their skills with live demonstrations of upholstery, woodworking, window treatments, and wall upholstery.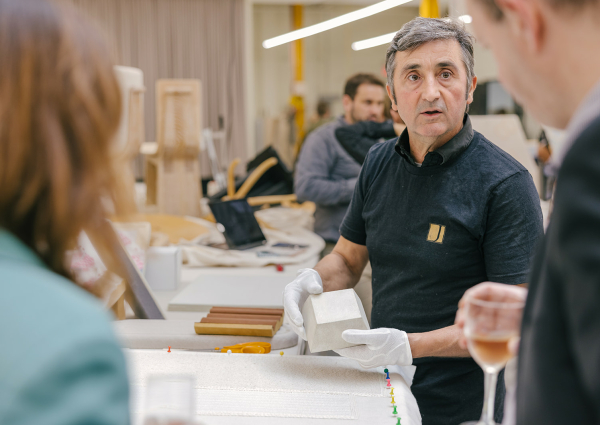 François-Xavier Richard, at the helm of Atelier d'Offard, displayed a fusion of tradition and technology in his hand-blocked wallpapers, a testament to his years exploring the potential of paper. Manuela Paul-Cavallier shared her mastery in creating custom gold leaf patinas, illuminating the transformative power of her decades of craftsmanship. Steven Leprizé of ARCA entranced attendees with his Airwood, demonstrating the expansive possibilities when woodworking embraces innovation. Meanwhile, Nicolas Souchet's beautiful use of locally sourced wood and CNC techniques created exceptional pieces that harmoniously bridged contemporary design and traditional woodworking. Combray Design, led by sisters Laure and Aurelie Hug, exhibited a beautiful blend of traditional and contemporary influences through their intricate, hand-embroidered motifs. Finally, Brooklyn-based Studio Anthost showcased the limitless possibilities of handcrafted textiles when blended with uncommon embellishment techniques, revealing an infinite canvas for design.
Not only were the skills of artisans on display, but a new "Trompe-L'oeil" scenography graced the showroom, featuring fresh creations and collaborations with partners including GRADE NY, Santiago Salgado, BAS Stone, Zak + Fox, Eric Nakassa, Delisle, and the Jouffre design team, among others. As visitors explored the scenography they were immersed in an ambient electric cello performance by Daniel de Jesus. Meanwhile, the crown jewel of "Trompe-L'oeil" is undoubtedly the immersive wall upholstery mural, an outstanding collaborative piece by Studio Anthost, Combray Design, Garcé & Dimofski, and Jouffre.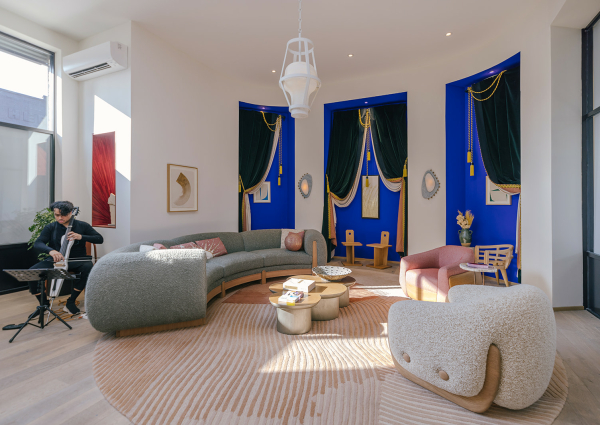 Drawing inspiration from the showroom's theatrical niches and eclectic selection of furniture, as well as the Jean Royère sconce, the mural employs techniques and materials such as dyed raffia, metal beads, and springs, with a layer of hand-painted organza creating depth and transparency. The hand-embroideries elevate the mural into a work of art, transforming a simple wall into an abstract landscape.
The atmosphere took a delightful turn when the lights dimmed, and the atelier transformed into a scene reminiscent of a European club. DJ sets filled the air with rhythm as guests admired unique furniture and lighting installations, and the floor filled with joyful dancing and infectious camaraderie. Amidst the revelry, Steven Leprizé made a show-stopping entrance on a bespoke motorcycle clad in his iconic wood veneer, capturing the spirit of creativity and innovation that defined the event.
The night was graced with a warm welcome from industry luminaries including teams from Fox-Nahem, GRADE NY, Ingrao, Peter Marino, Robert Kaner and many more. Romain Jouffre, Guillaume Bouchez, and Gaëtan Bruel took center stage, emphasizing the importance of Jouffre, Par Excellence, and Villa Albertine's respective missions and expressing heartfelt gratitude to everyone involved.
Feedback from attendees praised the successful transformation of the working space into an atmospheric haven, a testament to the 'magicians' of the team who made it possible. It was more than just an event; it was a celebration of the people behind the process, their talent, and the wonderful energy they brought into the space. This event left an enduring impact on all who attended, not only by fostering new industry connections but also by creating a shared memory of music, laughter, and collective appreciation for design. Most importantly, it was a night of gratitude for valued clients and partners, whose continued collaboration and support were truly worth celebrating.
As the last beats of the music faded, one thing was evident - we can't wait to do this again next year for Design Week! Until then, we'll keep the spirit of this event alive, celebrating the creativity, craftsmanship, and connections that make our industry so extraordinary.