This year, the second edition of the AD Matières d'Art exhibition will take place from September 17 to September 24, 2021 at the Palais d'Iéna in Paris. For this event, Jouffre will be present to share the know-how of two exceptional craftsmen: Ekceli and Bernard Pictet.
JOUFFRE x EKCELI
The studio Ekceli or "Regard Braqué" in Esperanto, was founded in 2012 by Marie Berthouloux. Ekceli is specialized in Gold Embroidery and material transformation such as volume research, the creation of singular supplies or the ennoblement of surfaces. Thus, the studio develops authentic and luxurious techniques mixing exceptional work and originality thanks to the singularity of the materials.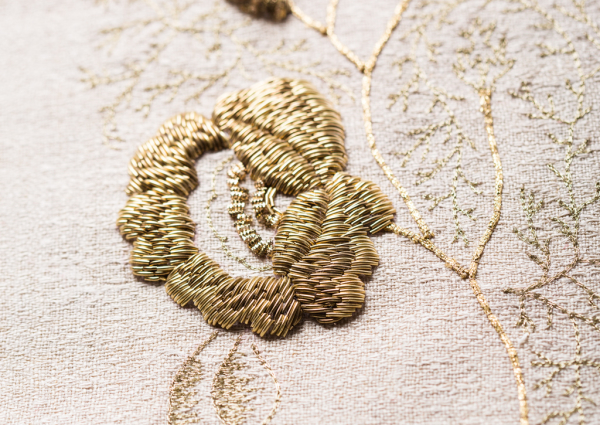 The techniques used reveal, sublimate and highlight the products through controlled gestures. Each project is developed by the studio's craftsmen and adapted according to the client's request: wall panels, canvases, design objects, decorative accessories or window dressing are meticulously worked on to sublimate and bring refinement and texture to each creation.
Jouffre and Ekceli combine their exceptional know-how in this new edition. The artisans of Jouffre have created five panels covered with fabric and leather, each dressed with aesthetic motifs by Ekceli. Marie Berthouloux worked the material by filling the bark fabrics developed by pyrography leather and embroidery flats, wool and gold threads or cannetilles to bring texture and volume to the panels. It is by using natural colors of raw materials and neutral tones such as light brown, light gold to aged gold and gold monochrome that the craftsmanship reflects aestheticism and elegance.
JOUFFRE x BERNARD PICTET
Bernard Pictet has been designing and producing original and sophisticated glass products with his teams for more than thirty years in his Parisian studio. Each product is made to measure, on request and in collaboration with the client, in order to continually create new materials. Many techniques are used by craftsmen to work glass such as engraving, chiselling or gilding sublimating this material and giving it amazing movements.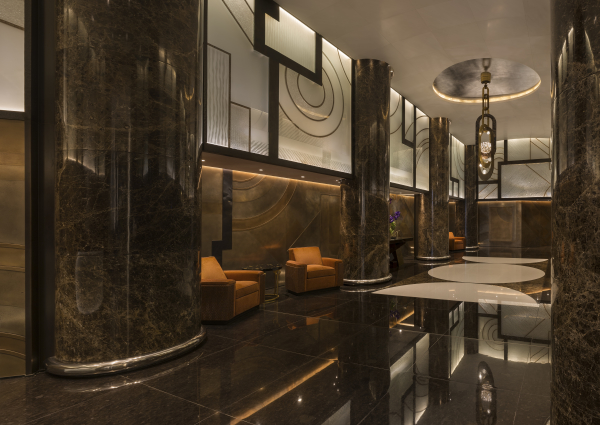 It is through different types of glass that the craftsmen of the Bernard Pictet studio and himself carry out spectacular projects: from the most opaque glasses dressing the walls, to the most transparent and translucent glasses separating spaces. Thus, this talented craftsman of art carries out innovative projects on behalf of a clientele of international interior designers. During this exhibition, Bernard Pictet will present four new creations associated with fabrics imagined and created by Toyine Sellers, creator of exceptional fabrics. The craftsmen of Jouffre have sheathed all the frames signed by Bernard Pictet in Rubelli silk velvet, thus sublimating the glassmaker's creations.
AD Matières d'Art
From September 17 to 24, 2021
Palais d'Iéna
9 Avenue d'Iéna, 75016 Paris