Renowned for his haute couture aesthetic and refined style, interior designer Pierre Yovanovitch realized residential and public projects for international clients. Acclaimed Parisian designer and awarded several times by the AD100 list, Pierre Yovanovitch has published his first monograph, alongside the publishing house Rizzoli. The collaboration between the editor and the architect reflects the latter's contemporary vision, which is perfectly reflected in the various projects presented in this book.
This monograph, published in September 2019, allows the readers to delve into fourteen projects selected by Pierre Yovanovitch, mostly carried out on behalf of cultivated individuals who are concerned with supporting the crafts.
Between Paris, Brussels, London, New-York and Tel Aviv, these creations encapsulate the poetic work of Pierre Yovanovitch and his teams. His sober and refined style always yields surprises and relates a story: those of his clients, but also those of the collaborations that the interior architect has created over time with his craftsmen who create unique pieces for each project.
This first book presents more than two hundred photographs within private residences that the decorator has completely reinvented by harmonizing art and design. Each project is described and narrated by Pierre Yovanovitch himself and wonderfully illustrates the purity of his aesthetic and his savoir-faire to imagine unique living spaces.
For more than 10 years, the interior architect has entrusted our craftsmen with the fabrication of upholstery and drapery works, thus giving life to his ideas. Jouffre has had the opportunity to participate in the decoration of many of these unique places by creating sofas, armchairs, benches, beds, curtains or cushions; to be delivered and installed all over the world. Our teams are proud to have participated in the renovation projects of the Château de Fabrègues in Provence, the private residence located at Quai Anatole France in Paris, the chalet in Andermatt in Switzerland or the guest house Quinta Da Côrte located in Portugal. Jouffre warmly thanks Pierre Yovanovitch and his teams for the trust they have shown for so many years.
ETANGS D'IXELLES
Pierre Yovanovitch entrusted our workroom with the realization of curtains, blinds, cushions and seats.
Photo credits: © Jose Manuel Alorda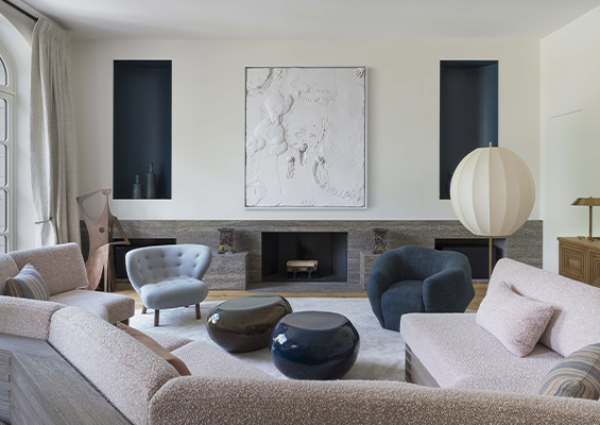 QUINTA DA CORTE
For this project, our craftsmen upholstered a large back to back sofa of three meters long, a suspended bench, the famous Oops chairs and created the ball cushions signed by Pierre Yovanovitch.
Photo credits: © Jean-François Jaussaud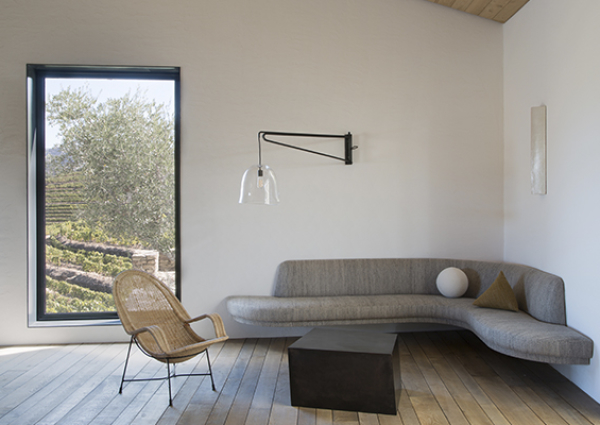 ANDERMATT
Our upholsterers had the opportunity to manufacture all the sofas, benches, cushions and curtains of the chalet located in Andermatt.
Photo credits: © Jean-François Jaussaud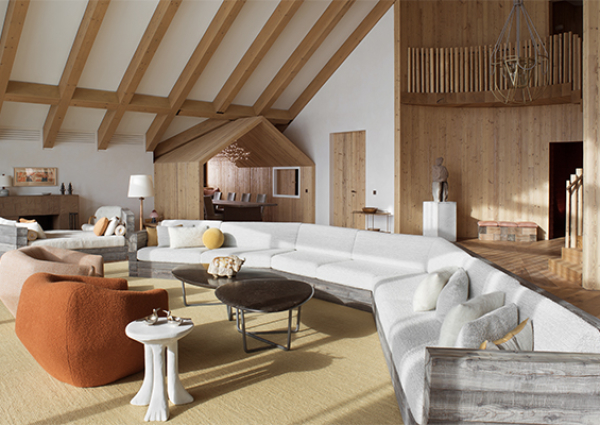 Our workroom is honored to collaborate with such a talented designer who is able to think, revisit and modernize residences, while remaining in tune with the spirit of the place.